Please click on an item in the list of resources. You can also get a variety of resources at www.umc.org
Devotions
We believe that time with the Lord is most important to developing a relationship with God. Take a few minutes out of your day with the following sites:
For all:
The Upper Room
For Teens:
Devozine
For Young Children:
Pockets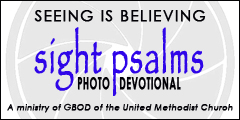 '
Sight Psalms
' is a new daily devotional intended to help people reflect on God's presence in their lives through the use of images.
Bible Reading Plans
Did you know that you can set up free reading plans on your smartphone or computer? Just click on the Bible to link to YouVersion.com to set up a plan or download a free app!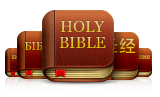 Rethink Church
Try
Rethink Church
- a spiritual place for you to question, discuss, get involved and make a difference!
Bible Search
A great source for finding Bible verses, different Bible versions or translations, topics, etc is:
http://www.biblegateway.com/

A fun and easy to learn format explaining different parts of the church and worship service.